When I was 5, our family moved from New York City to the countryside outside of the city. My brother and I were the only kids of Asian descent in our elementary school. Our father was born in Yamaguchi, Japan to a Japanese mother and American father, and I always felt proud of that — but in this new environment, I instantly felt different.
These early experiences showed me just how important it is to show up for and with communities. Over the past two years, COVID-related small business closures and targeted acts of violence have reinforced the importance and impact of allyship — and have underscored how critical it is to support historically marginalized communities, including our Asian community. That's why we're announcing a new way to help Asian-owned businesses thrive.
Celebrating Asian-owned businesses
Starting today, US businesses can now add the Asian-owned attribute to their Business Profile on Search and Maps. In the coming weeks, ad-supported publishers will be able to identify as Asian-owned in Display & Video 360's Marketplace, too.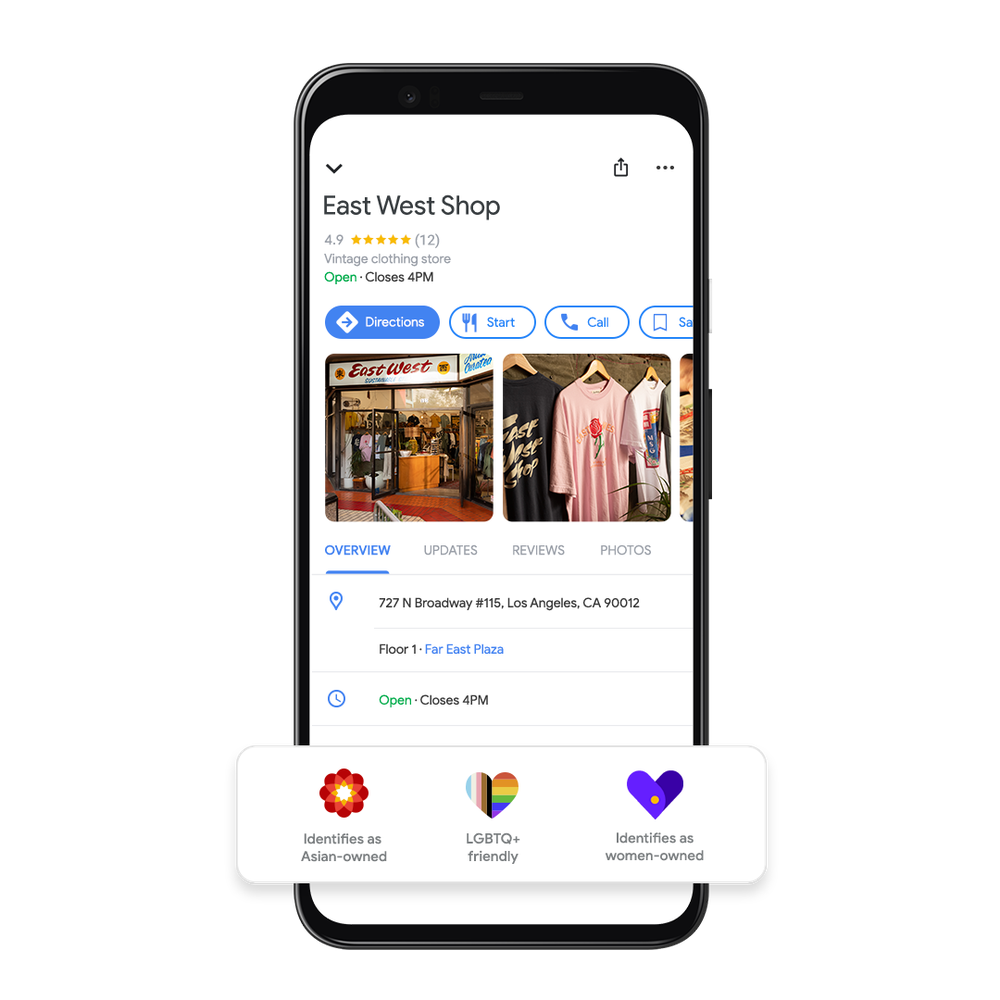 Businesses can opt in to adopt the attribute on their Business Profile and can easily opt out at any time. Once the attribute appears on a Business Profile, users will also be able to see the attribute. This update builds on the Black-owned, Latino-owned, veteran-owned, women-owned andLGBTQ+ owned business attributes, and is another way people can support a diversity of businesses across Google's products and platforms.
As we were building this feature, we worked with hundreds of Asian-owned businesses to ensure the attribute celebrates our diverse and unique cultures. During that process, I was particularly struck by what Dennys Han, owner of East West Shop, shared with us about the power of community: "If someone is trying to accomplish something, the entire local Korean community will band together to help it come together. The idea of the community and group as a whole uplifting each other is fundamental to what we do."
Building up Asian-owned businesses' digital skills
Over the past few years, Grow with Google has partnered with the US Pan Asian American Chamber of Commerce (USPAACC) to help Asian-owned small businesses grow. To date, we've helped more than 20,000 Asian-owned businesses expand their digital skills through workshops focusing on topics like e-commerce tools, design thinking for entrepreneurs and making decisions using analytics.
Today, we're building upon that partnership. Together, USPAACC and Grow with Google will help an additional 10,000 Asian-owned small businesses gain digital skills to help them grow their businesses. And as the internet continues to grow in importance for shopping, nearly one quarter of Asian-owned business owners said their most important channel towards building community and financial support was across social media and online.
It's our hope the Asian-owned attribute brings people together and provides our communities with much-needed recognition: to help them be seen and thrive. We are excited to spotlight Asian-owned businesses and highlight part of what makes our community unique and important.